Richard Pilnick
—————
Yoga has the ability to heal. Yoga has the ability to bring about peace.
The more people we can inspire to practice the happier and healthier this world will become. By taking Yoga into the Photography, Art & Fashion worlds I intend to inspire more people to come to the mat and begin a journey of self discovery.
Richard Pilnick is a photographer, yogi, father, brother, and son—a creative soul driven by the power of photography to make a positive difference in the world. With a background in fashion and portraiture, Richard possesses a keen eye for detail, tirelessly working to craft timeless and captivating imagery. His collaborations with influential yoga teachers such as Manju Jois, Sharon Gannon, Mark Whitwell, Danny Paradise, and Rusty Wells have sparked inspiration and catalysed change within various yoga communities across the globe.
Having been featured in prestigious publications like the esteemed photographic magazine 'Black + White' alongside the renowned David Bailey, Richard's work extends far beyond accolades. It speaks to the hearts of individuals, inviting them to embark on their own transformative journeys. Through his lens, he captures the essence of yoga practice—showcasing not only breathtaking one-handed handstands but also the sublime beauty of upward-facing dog. Richard believes in the power of relatable and attainable content, knowing that it is these images that ignite the spark within newcomers to take their first step onto the mat, while simultaneously inspiring seasoned practitioners to reach new heights.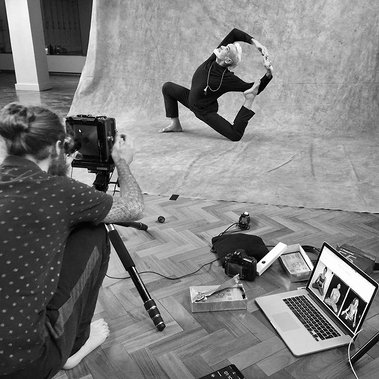 'Yoga is also art, and the body is a piece of art to be appreciated to admire it's beauty and to perfect it's beauty and take it to it's unlimited potentiality. Guruji became the one that turned that all around to say look within. So see that beauty that you're seeing outside and see if you can see that on the inside. We are guided by our practice to look within…' - John Scott
The images used to portray yoga need to change, we need to inspire people into this wonderful world of self development and understanding, we need to honour the practice that is giving us so much. Bibi McGill (Beyonce's Ex-lead guitarist) aptly writes 'We've turned yoga into the "look at me" selfie syndrome' - this is not yoga, this is not honest…'
As he traverses the globe, Richard's photographic art serves as a beacon of inspiration, captivating audiences worldwide. If these images resonate with your soul and ignite a fire within, don't hesitate to get in touch. Reach out to Richard at bookings@yogaphotography.com to discuss commissions, collaborations, or any other creative opportunities.
Together, let's weave stories, capture fleeting moments, and create visual masterpieces that inspire and transform lives. Join Richard on this incredible journey of self-expression, connection, and limitless creativity.
Richard's intentions are to inspire more people to come to the mat through fine art photography, believing the more people we can inspire to practice the happier and healthier this world would become…
Richard is based in London, England, regularly traveling to Europe & Asia. We'd love to hear from you and begin a journey of self discovery together.
Yoga Photography LOVES collaborating with studios, brands and retreats, so if you have an idea, we'd be honoured to help raise vibrations together…
Richard Pilnick is the real thing. He is an artist, a Yogi, and a gentle man filled with courage, compassion, intuition, and brilliance. He is more than a photographer. Richard is an important historian who possesses the keen and unique ability to draw out of his subject the very pulse of their being. When I see his art, I see the wisdom, breadth and the depth of each person: they are raw, vulnerable and authentic. His portraits are amazingly in the here and now but will inspire us for an eternity.

Rusty Wells
———
Not many photographers have been able to capture asana as well as Richard. He is a master craftsman and artist who understands the essence of yoga. His images show the grace, intensity and stillness of yoga. He is a yogi both behind the lens and on the mat.
Gingi Lee
———
I have loved every minute of working with Richard. He is a true talent and a joy to work with. He is a perfectionist like no other and his stunning images capture the spirit and soul and unique beauty of his subjects.
The Shala London
———
Working with Richard was an amazing experience. He is not only one of the very best photographers I ever met, but is also also an inspiring Yogi. Therefore doing the photos for my new Ashtanga Yoga book became a real yogic experience. His eyes are so sharp to see the perfect posture and the perfect moment of it. Were other photographers "klick" 10 times he hits the button once. But this one photo really says something about the Asana and the practice!
Dr. Ronald Steiner
———
Eternally grateful to everyone who has helped this journey, in particular, David Williams, Gingi Lee, John Scott, Dr. Ronald Steiner, Laruga Glaser, Kino MacGregor & Danny Paradise for their collaboration in creating Ashtanga Yoga, a fine art study - out now.